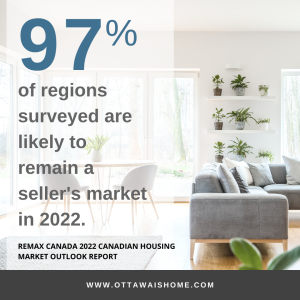 The seller's market remains! But will it last?
In this blog, we're outlining the trends and predictions for the 2022 Ottawa Real Estate Market. The real estate market throughout 2021 has been crazy with bidding wars and blind offers; it was definitely a year for sellers. Now we're seeing historically low interest rates paired with low inventory levels, which have set up 2022 to be another crazy year. 
Here are our predictions for the Ottawa Market:
Quarter 1 & Quarter 2 will remain in a seller's market.
For the first half of 2022, we're expecting to experience a market that's very similar to how most of 2021 went.
We're still seeing ultra-low inventory levels in all markets, including Ottawa. This means that there will be upward pressure on housing, likely resulting in higher offers on properties. 
We also expect to see interest rates remain low throughout this period. These low interest rates have provided buyers with some relief from the pressure of this seller's market, and we expect that to continue through the first half of 2022. 
Quarter 3 & 4 are predicted to be a more balanced market.
The second half of 2022 is expected to shake things up a bit and will potentially bring us a more balanced market.
Interest rates are expected to rise again as the market shifts. Today's interest rates just aren't sustainable when the market cools.
Along with increased interest rates, we predict an influx of inventory, which will slightly lessen the seller's power and give buyers more options.
Our Advice…
For sellers, we suggest listing within the first half of 2022. At this time, we will still be in a seller's market, which means decreased inventory and upward pressure on prices. Selling your home during this time is highly recommended.
For buyers, we suggest evaluating your personal situation before deciding on when to buy. During the half of the year, interest rates will remain low, which can save you money over the course of your mortgage. BUT keep in mind that with low inventory, you're likely to pay more for the home of your dreams which could offset the savings your low interest rate has provided.
Alternatively, if you wait until the second half of 2022, you will likely have more options within your budget as we see the market balance out. BUT interest rates will likely increase, which adds to your monthly costs.
Overall, we predict 2022 will be very similar to 2021, where one thing is for sure: you will need a realtor. A realtor can help you navigate the market by providing expert advice, negotiating on your behalf and searching the market for your ideal home.
If you're looking to buy or sell in 2022, contact the Adam Mills Team. We would be happy to help you through the process and get you into your dream home.