FACEBOOK LIVE SERIES
It's true. D*vorce isn't a bad word. I think more people need to hear that. My team and I experienced –
first hand – the number of couples looking to part ways rising during COVID. Broken marriages have become the
pandemic's other toll. I want you to know you're not alone.
In my six-part Facebook LIVE series I talk – with the experts – about the tough
topics surrounding separation and divorce.
Money Matters
Staying out of the courtroom
Keeping kids out of therapy
What happens to the family home?
Resilience and rebuilding (both your confidence and your wealth)
How you can move forward in a healthy way
Through these conversations, my hope is to ease the turmoil of those going through an uncoupling.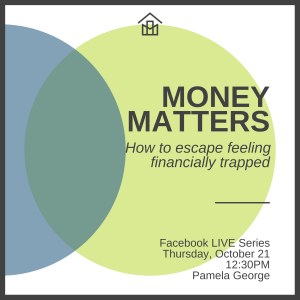 MONEY MATTERS: How to escape feeling financially trapped
with Pamela George
Recorded on Thursday, October 21
Pamela knows a lot of women stay in bad relationships because
they feel like they can't financially support themselves on their own. She wants women in bad marriages to know she
can help them regain financial independence. Pamela will also provide TIPS on what women can do while they're still
in the marriage, but thinking about leaving, to prepare themselves to become financially independent.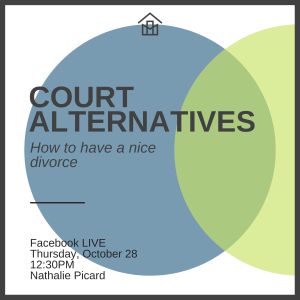 COURT ALTERNATIVES: How to have a nice divorce
with Nathalie Picard
Recorded on Thursday, October 28
Nathalie believes that most divorces are 80% emotional and 20%
legal. As a non-adversarial lawyer, she specializes in mediation and collaborative law. Nathalie doesn't do nasty
letters. She picks up the phone. She has meetings. Nathalie doesn't do court. She'll negotiate. It's all about the
way you approach people, in a caring fashion, wanting to make a difference for families. You can divorce in a
respectful fashion.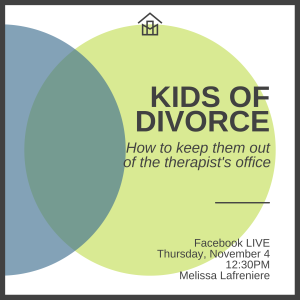 KIDS OF DIVORCE: How to keep them out of the therapist's office
with Melissa Lafreniere
Recorded on Thursday, November 4
Melissa believes that it's integral to protect the
co-parenting relationship so that the kids aren't collateral damage. Melissa, herself, was the product of a
high-conflict divorce. As an adult, she also found herself in a high-conflict divorce with children, giving her a
unique 360-degree perspective. Today, Melissa helps people create child-centered parenting plans.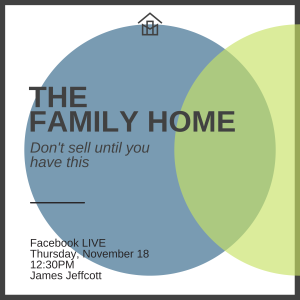 THE FAMILY HOME: Don't sell until you have this
with James Jeffcott
Recorded on Thursday, November 18
What do we do about the matrimonial house? Are you selling? Transferring from one spouse to another? James Jeffcott, an OACP Collaborative Professional and past president/board member of Collaborative Divorce Ottawa, reveals the problems he sees most frequently in his practice and what you need to have in place before you sell the family home. James is passionate about working towards a resolution that works for everybody.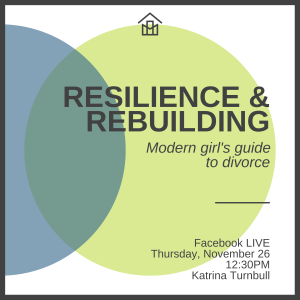 RESILIENCE & REBUILDING: Modern girl's guide to divorce
with Katrina Turnbull
Recorded on Thursday, November 25
Katrina Turnbull – host of Modern's Girls Guide to Divorce on Bell Fibe TV1 – was taken to the cleaners in her divorce, having $150,000 eaten up by lawyers and legal fees. After rebuilding her life, and her financial equity, Katrina is on a mission to help others going through this process to not have the soul-crushing experience she did.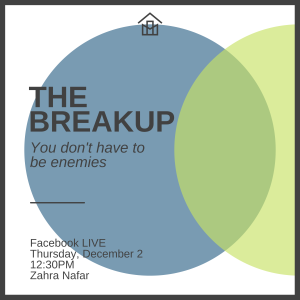 THE BREAKUP: You don't have to be enemies
with Zahra Nafar
Recorded on Thursday, December 2
Zahra Nafar is a neuropsychotherapist. She has a doctorate in neuroscience, and is also a registered psychotherapist. Zahra is passionate about her work in specialized couples therapy. She wants to help people grow through the process of divorce, instead of spiralling into more trauma and difficulty. Zahra will discuss the biggest issues she helps people face in the process, and how she the uncoupling overcome them.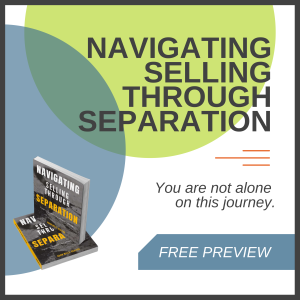 Navigating Selling Through Separation is a useful tool to ease the turmoil of uncoupling, specifically when it comes to selling the most valuable jointly-owned asset — the matrimonial home.
This quick read – at just under 100 pages – explains in a simple step-by-step manner some of the most important considerations of buying and selling real estate: how to get your property on the market, what to do while your property is on the market, and how to achieve the best sale price – all while reducing the stress that comes with planning and undergoing separation.