New studies of the entire city of Ottawa highlight the most walkable neighbourhoods in the area, as the population is projected to grow to almost 3 million by 2046. In response, City Hall is focused on urban intensification instead of sprawl. 
The City will be looking at how suitable each neighbourhood is to becoming a "15 Minute neighbourhood". These neighbourhoods would be residential hubs where people can access daily destinations, such as schools, grocery stores, public transit, parks, etc., within a 15-minute walk from their homes.
The study conducted by Ottawa scores neighbourhoods based on access to services and amenities and the safety and enjoyability of the pedestrian environment with respect to walking to these services and amenities.
In the image below, the neighbourhoods rated the best are highlighted in purple, average in orange/yellow, and worst/below average in red.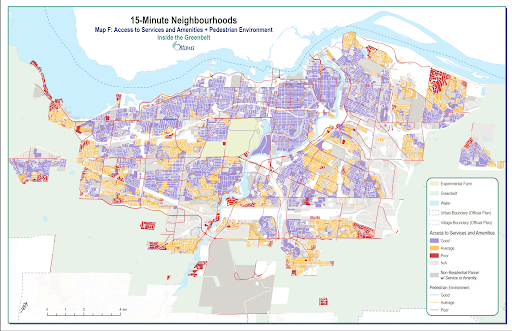 Not surprisingly, neighbourhoods that are centrally located scored higher than average. However, Bel-Air Heights, Gloucester, and Alta Vista all rated poorly.
While the study does cover significant ground in understanding how Ottawa will respond to a growing population and urban intensification, there are still many blind spots. For example, tree cover and access to shade while walking through these neighbourhoods are vital for understanding how the population will use these spaces in the summer months.
A more in-depth study will be released by the City of Ottawa this fall. You may be interested in purchasing real estate in the neighbourhoods that scored highest in this study, as it reflects the neighbourhood's ability to adapt to the coming changes.
If you are thinking about making your real estate move this season, you need a strong team on your side. Whether you are looking to buy or sell property in the Greater Ottawa Area, it is critical that you have a real estate agent on your side who understands your needs. Adam Mills and his team have been in business for over ten years and have a proven track record for success. Our team comprises knowledgeable and experienced professionals who are happy to help you navigate the ever-changing Ottawa real estate market. Please contact us at 613-825-7653 or email us at info@ottawaishome.com for more information or help with your relocation.