We know not every-bunny celebrates Easter, but if you do, here are some fun activities hop-pening this weekend in Ottawa!
PLUS a fun at-home recipe you can do with your family!
SATURDAY
1. Perth Tourism Easter Egg Hunt!
Location: Stewart Park (Perth Town Hall, 80 Gore St. East)

Time: 11:00 am Saturday, April 16th (Arrive early! The hunt starts at 11:00 am and finishes quickly!)
Bring your own basket & get to hunting! This event is best suited for families with children under 8 years old & requires parental supervision. The day doesn't end with the hunt! There will be various activities, including children's music, a balloon artist & fire trucks on site!
Admission is FREE!
2. Metcalfe Easter Farmer's Market
Location: Greely Community Centre (1448 Meadow Drive)
Time: 9:00 am to 2:00 pm Saturday, April 16th
This is a fun activity for anyone! Head to the market and pick out some local goods from over 50 vendors. This is such a fun morning activity to kick off your Easter weekend & is a great way to support local businesses.
Admission is FREE!
3. Bunny Hop
Location: Ashfield Farm (8594 Franktown Road)
Time: 11:00 am – 3:00 pm
This event is so much more than your typical Easter Egg Hunt! Roam around the farm to the various stations they have set up like the Bunny Burrow Tea Room, Bunny Cuddle Story Time, Easter Crafts, Piccadilly Petting Zoo, & so much more!
Parents are FREE. Children's admission starts at $20.00 and is available for morning or afternoon sessions. Ticket sales end TODAY.
Book Your Spot Here.
RECIPES FOR AT-HOME FUN
Birds Nests (recipe courtesy of Taste of Home)
Prep Time: 40 mins
Yields: 2 Dozen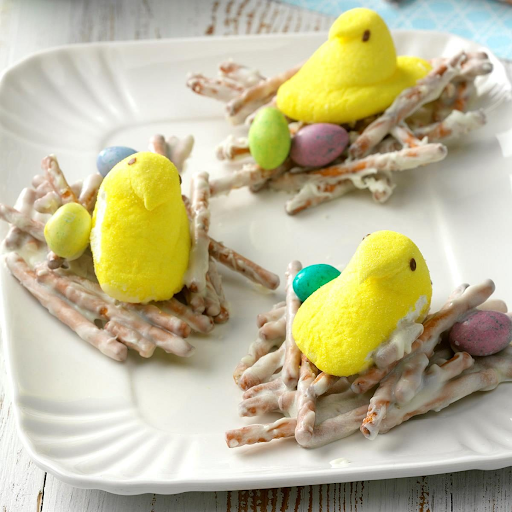 Ingredients:
– 2 packages (10-12 ounces each) of white baking chips
– 1 package (10 ounces) of pretzel sticks
– 24 Yellow Peeps
– 1 Package of Egg-shaped Candy (M&Ms or Cadbury Mini Eggs)
Directions:
In a large metal bowl, over simmering water, melt baking chips; stir until smooth. Reserve 1/2 cup melted chips for decorations; keep warm.

Add pretzel sticks to remaining chips; stir to coat evenly. Drop mixture into 24 mounds on waxed paper; shape into bird nests using 2 forks.

Dip bottoms of Peeps in reserved chips; place in nests. Attach eggs with remaining chips. Let stand until set.