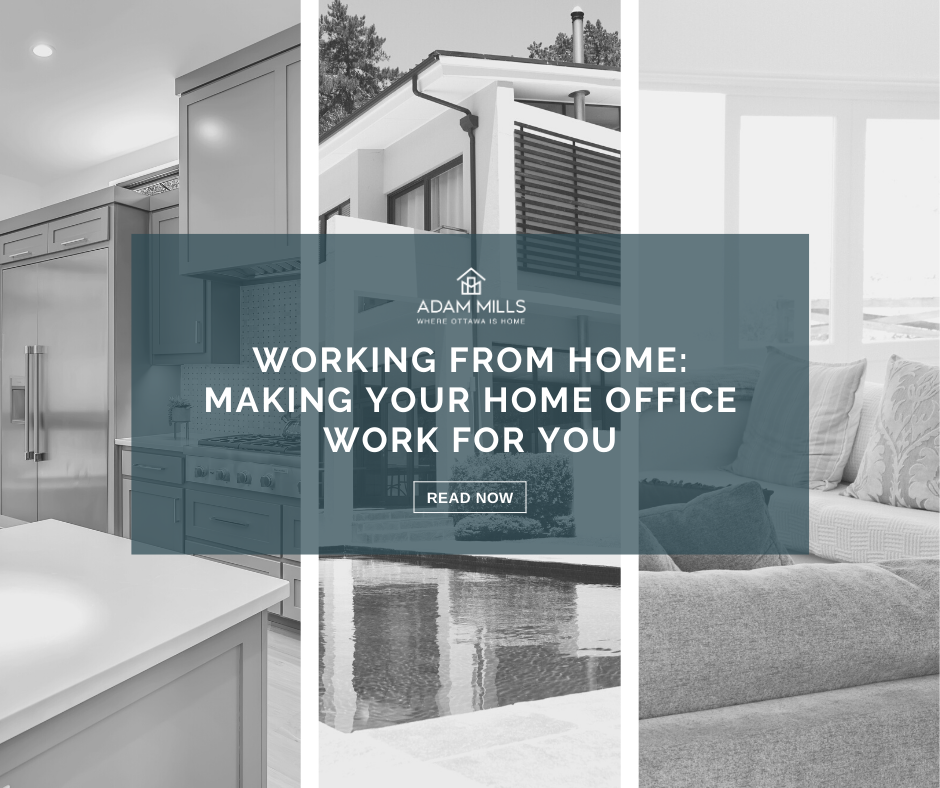 In March 2020, 5 million Canadians pivoted to working from home. One year later, that figure has now ballooned to 7.2 million Canadians. The bottom line? Working from home is here to stay.
Though it has its undeniable perks (no commute time, anyone?), working from home also presents serious challenges. Employees often find themselves drained and prone to the negative effects of social isolation. 
While mental health is at the forefront of our minds, the importance of creating and maintaining a sound physical workspace is equally imperative to ensure well-being. Here's how you can adapt your personal space to make the work-from-home life work for you.
Establish Focus
Getting into the "zone" for work can be difficult when your workspace overlaps with your life space. One of the best ways to get yourself in the flow is to set up your office in a dedicated "work" space where you can isolate yourself, distraction-free. 
If you're conscious of square footage, a great alternative is to get a folding table –  which you can expand and use during work hours, and collapse and stow-away during life hours. 
When sharing the space with little ones, it is important to communicate to them that work requires your full attention. If a simple explanation doesn't do the trick, resort to more creative methods. Have you ever been to a broadcasting studio, and noticed the "on-air" light during show-time? You can similarly invest in a small light for your space that clearly tells everyone that you're working. A more tech-savvy option is to invest in lighting which can be controlled by your phone to indicate that "red light" means "do not disturb". 
Create comfort
It is incredibly hard to stay productive if you are stressed. Your home office should be comfortable and inviting – allowing you to set the mood and tone to manifest your productivity. 
Consider investing in ergonomic tools, such as:
A comfortable chair for extended periods of sitting

Accessories such as a detachable keyboard, mouse and wrist pads which will keep you from straining your hands and wrists

A second, large-display monitor to prevent you from straining your eyes

A standing desk to give yourself a break from sitting for extended periods of time
An advantage of not having to share your space with colleagues is that you can make your space uniquely your own. Engage your senses with ambient music – whether it's relaxing nature sounds or replicating the coziness of your local coffee shop. Similarly, consider the benefits of aromatherapy. Lighting your favourite candle or diffusing a calming (or invigorating!) scent can be refreshing. These minor changes can have a positive effect on mood and comfort, which can do wonders for your productivity.
Maintain professionalism
They say, "when you look good, you feel good – and when you feel good, you do well". Changing your aesthetic is a psychological tool that you can manipulate to optimize your work. 
Zoom calls don't just feature your face, they feature your surroundings as well. Be mindful of your background, and remove clutter that you'd rather not have on display. Showcase your personality: feature an interesting art piece, souvenirs from your last vacation, or the books that you have just crossed off your to-read list.
Also important: what's behind your camera. In order for your face to be displayed clearly, place a light source in front of your camera. 
Whether you are looking to buy or sell property in the Greater Ottawa Area, it is critical that you have a real estate agent on your side who understands your needs. Adam Mills and his team have been in business for over ten years and have a proven track record for success. Our team is comprised of knowledgeable and experienced professionals who are happy to help you navigate the ever-changing Ottawa real estate market. Please contact us at 613-825-7653 or email us at info@ottawaishome.com for more information or help with your relocation.